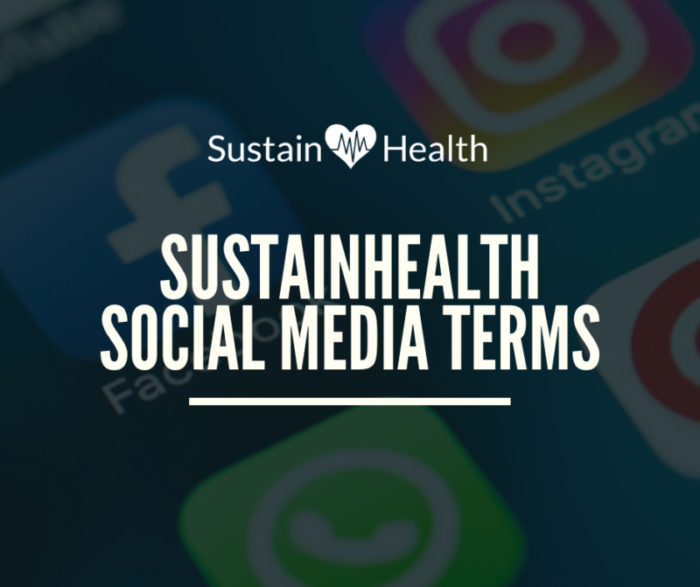 SustainHealth: SustainHealth Social Media Terms
Here at SustainHealth, we aim to keep our community updated with any news, events and share in our achievements aiding in creating an open and supportive forum. We would like to thank our community who have thus far shared their experiences and also provided feedback on how we can further improve our services. Read on for more information regarding how we regulate our social media platforms and measures we take to ensure everyone's safety and autonomy.
OWNERSHIP OF SUBMISSIONS AND SOCIAL MEDIA INTERACTION
Other than personal information which is subject to our usual SustainHealth Internal Privacy Policy all comments, feedback, suggestions, questions, ideas, artwork, images, product or marketing ideas and any other submissions disclosed, submitted or offered to SustainHealth on or through the Website or otherwise disclosed, submitted or offered by you (collectively, "Submissions") shall become and remain the property of SustainHealth once submitted. You must comply with the content standards for Submissions set out in these Terms and Conditions. You warrant that you own or have the right to use any Submissions and that your Submissions will comply with these standards and guidelines. You warrant that you have the right to grant to SustainHealth the rights set out in these Terms and Conditions in respect of your Submissions.
SOCIAL NETWORKING SITES
These Terms and Conditions also govern any Submissions you make on any SustainHealth related third party website or page such as our Facebook page, Twitter, YouTube, Instagram or other social networking site. All comments, images, videos and any other type of material posted on any third-party social networking site do not necessarily reflect the opinions or ideas of SustainHealth or its employees and SustainHealth is not responsible for any such content. In any event, all material posted on any third-party social networking site must comply with these Terms and Conditions and the third-party social networking sites terms of use, as applicable.
INTELLECTUAL PROPERTY RIGHTS IN SUBMISSIONS
A disclosure, Submission or offer of any Submissions and your agreement to these Terms and Conditions shall constitute an assignment to SustainHealth of any intellectual property rights in the disclosure or Submission. Whenever you make use of a feature that allows you to upload material to the Website, including questions, or to make contact with other users of the Website or to make Submissions on any SustainHealth related third party website or page, you must comply with the content standards set out below (including the spirit of those standards) and with these Terms and Conditions.
CONFIDENTIALITY
Any material you upload to the Website will be considered non-confidential and non-proprietary, and we have the right to use, copy, distribute and disclose to third parties any material in the Submissions for any purpose. We also have the right to disclose your identity to any third party who is claiming that any material posted or uploaded by you to the Website or any SustainHealth related third party social networking site or page constitutes a violation of their intellectual property rights, or of their right to privacy or any other rights. We will not be responsible, or liable to any third party, for the content or accuracy of any materials posted by you or any other user of the Website. We have the right (but no obligation) to remove any Submissions you make on the Website if, in our opinion, such Submission does not comply with the content standards set out below (including the spirit of those standards).
By providing the above information we would like to encourage everyone working with or for SustainHealth to please share your experience with us and our community.
If you would like any further information or clarification on our policies, please do not hesitate to reach out to our Compliance Manager, Cara Cole on 02 8274 4687 or by emailing ComplianceTeam@sustainhr.com.au.