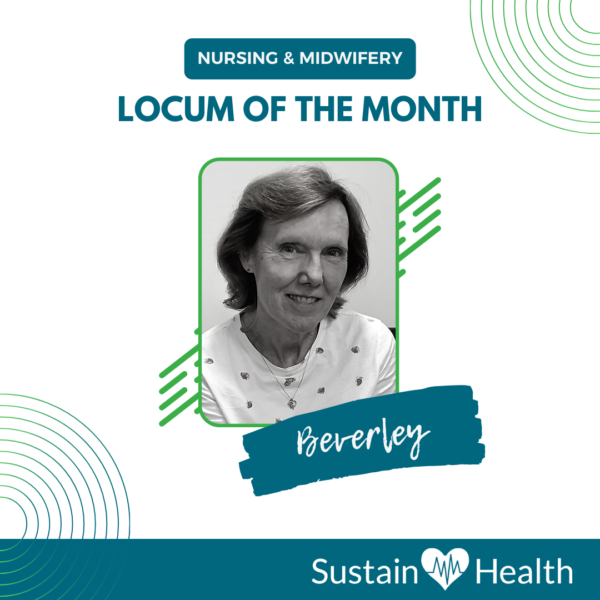 SustainHealth Locum Of The Month: Beverley, Scrub/Scout/PACU RN
SustainHealth Recruitment are delighted to have Beverley be a part of the SustainHealth Candidate Experience Series as our February Nursing & Midwifery Locum of the Month.
SustainHealth are lucky to have worked with Beverley on multiple contracts since 2018. She has always been so kind and passionate about her work.
We are thrilled to share her experiences and career in healthcare, read on to know more.
What is your current role?
Scrub/Scout/PACU Registered Nurse
How many years of experience do you have?
40 years as a Nurse (28years as a Registered Nurse & 26.5 years as a Scrub/Scout/PACU Nurse
What's an interesting fact about you?
I love getting dirty whilst fossicking and gardening.
Where are you currently located?
Rockhampton, QLD
How long is your contract for?
6 weeks
Why did you choose this location?
Another hospital I wanted did not respond in time for my deadlines and I wanted to go somewhere warm that I could explore in my off-duty time.
What have been the highlight of your contract?
There are so many things to visit and see: Crocodile Farm (really interesting), Shell Museum, Thunderegg Farm, Waterfalls, Great Keppel Island/Gladstone/Mt Larcom/Mt Morgan/Yeppoon/Emu Park, Art Galleries, Rain forests, and the seafood is divine.
What do you want your fellow contractors to know about your location or job role?
Although I responded to a Scrub/Scout role and landed in PACU, it was a good change. The PACU staff are fantastic and the people of Rockhampton are incredibly friendly.
What essential items do you take with you when you leave home to work on a contract?
I take half my kitchen in a plastic storage container (contains electric hotplate, frypan, 2 saucepans, sharp knives, grater, sieve, wooden spoons, veggie peeler, mixing bowls, chopping board, pegs, measuring jug/spoons, baking trays) and my trusty Thermos knapsack, which has plates, bowls, cups, cutlery, salt&pepper shakers, tea towels, etc. Towels, my pillow, soap, dishwashing detergent, toilet powder, and washing powder.
How did you hear about SustainHealth?
I followed Kay Reynoldson from another recruitment agency.
How have you found the service from your consultant at SustainHealth?
Brilliant
Would you recommend SustainHealth to colleagues or friends?
Always do
Final Word: What is your top tip for other health professionals when choosing their next contract?
Go somewhere new, where the weather suits you, and don't be afraid there is so much more to learn from others. Also always show your contract workplace colleagues kindness, I like to spoil them by baking biscuits and cookies the peanut butter cookies and milo biscuits seem to be the favourites.
If you would like to learn more about how SustainHealth Recruitment can help you find your next contract in Remote and Rural QLD, please contact Guido at Guido@sustainhr.com.au or call 02 8274 4684.