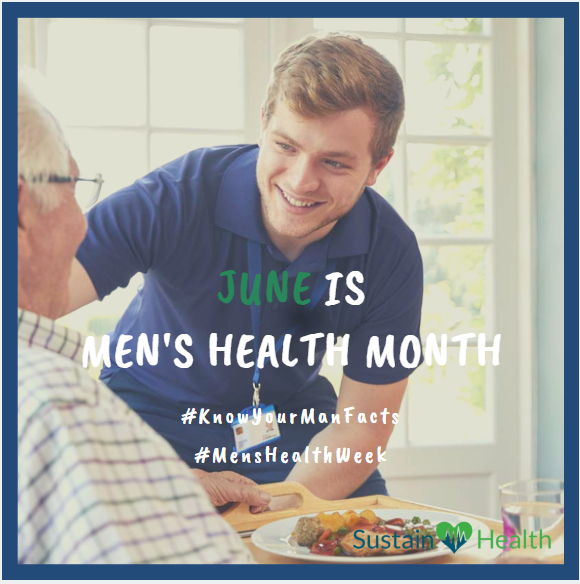 SustainHealth: International Men's Health Month
June has been recognised as International Men's Health Month since 1992, this annual celebration is dedicated to educating boys and men on their health and wellbeing. Having being built on the four pillars of, "Awareness-Prevention-Education-Family", men's health month addresses issues such as prostate, testicular, skin and colon cancers, hypertension, obesity and health disease.
During this period, health professionals among others, plan activities that focus on the health and well-being of men and boys. This includes nurses! Nurses are a vital and key part of checking health conditions for males and creating awareness.
Men's Health Month is also a key time to encourage boys and men to consider careers in the health and well-being industry.
According to the Australian Institute of Health and Welfare, showed that the total number of nurses and midwives registered in Australia was 360,008 of which; 31,059 are men registered nurses; 5,586 are male enrolled nurses, and 680 male registered and enrolled nurses. You can see the table via the following link!
From these statistics, it is evident that nursing is a female dominant profession, however, being a man in nursing does have its benefits!
These include:
A better understanding of male medical conditions, and having a more personal approach.
Male nurses tend to have decent strength, which allows them to perform certain tasks easier such as moving a person from one bed to another.
Males to become nurses are highly encouraged and are actively recruited.
You get to be a celeb! People notice male nurses and how you are helping to balance our gender in the profession – which is great for any profession!
Regardless of what statistics show, nursing is an amazing profession and more men are needed in the profession, across all locations and specialisms.
Over the past 2 years, SustainHealth has placed a number of nurses across Australia and approximately 10% of them were male. Our team are always looking for more men to join the SustainHealth team and we would love to hear from you!
If you're looking for a new nursing position, please contact us on:
P: (02) 8274 4677 or
E: Info@sustainhealth.com.au
Written by:
SustainHealth Compliance Coordinator
Ananya Banik