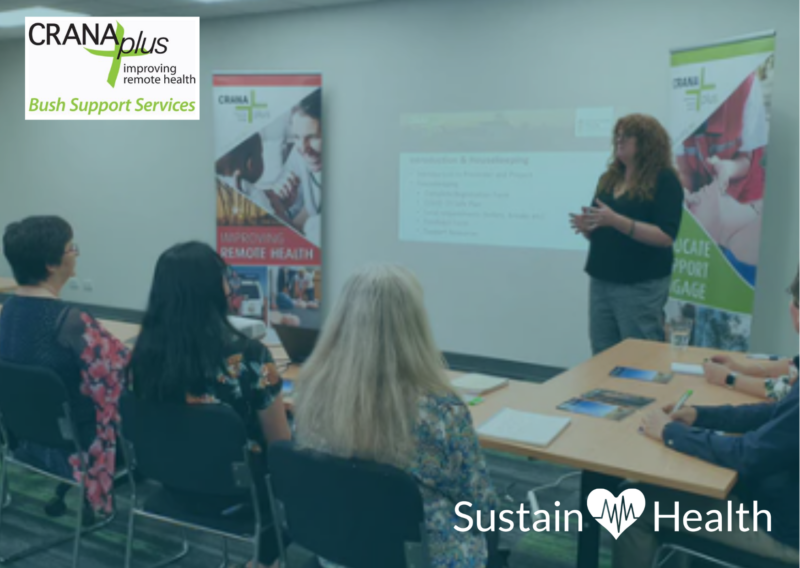 SustainHealth: CRANAplus Bush Support Services
During these difficult times, it is important more than ever for us to prioritise our mental health and wellbeing. Even though mental health remains somewhat of a sensitive topic in the workplace, it doesn't mean you should disregard it and work on getting through the day without looking after yourself. Many are already experiencing burnout, particularly those working in essential services.
In partnership with CRANAplus, SustainHealth support and promote the CRANAplus Bush Support Services. They offer a free confidential 24/7, 365-day telephone support line staffed by psychologists with remote and cross-cultural expertise. The line provides a confidential platform through which the current and emerging remote health workforce (and their families) can discuss difficulties, seek advice, and develop coping strategies.
The Bush Support service is available to all health professionals and their families in rural, remote, and isolated communities, including Aboriginal and Torres Strait Islander Health Workers/Professionals, the Allied Health workforce and other staff involved in health service delivery.
This is an ideal way for health professionals and their families to reach out when they need to, no matter the issue.
If you require on-going support, their psychologists can offer you structured and regular support with the same psychologist. Here are the services they provide:
• 24/7 telephone support, advice, information and referral
• Email counselling
• Specialised remote professional mentoring and support
• Aboriginal and Torres Strait Island specific support
• Self-care workshops tailored to meet the client's needs
• Online courses such as Workplace Conflict and Self Esteem
Do you or your family members feel the need to chat with someone outside the square? Call the CRANAplus Bush Support Services on the below.
Telephone counselling: 1800 805 391
Website: www.crana.org.au/support
Email/SKYPE counselling: scp@crana.org.au