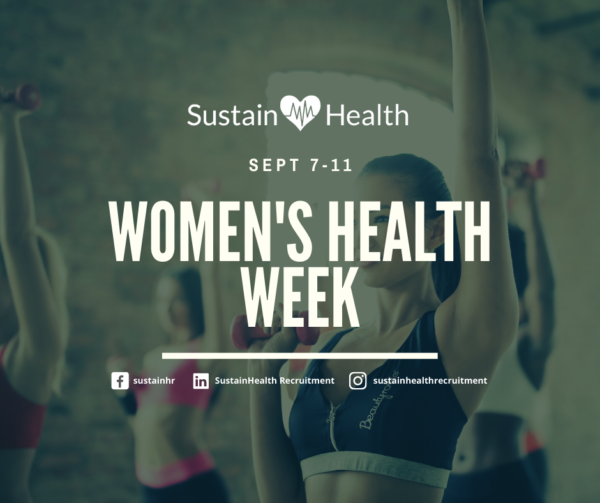 SustainHealth: Women's Health Week
September is an exciting time to be celebrating Women and in particular their Wellness.
This has stemmed from Jean Hailes realising there was no event attributed to Woman's heath in Australia. So now (celebrating the 8th year) we have this opportunity to take part in events, online activities in learning more about our health. SustainHealth with a female Director and extraordinary team of females recruiting in the health and wellness sector, pride ourselves in taking time to better our wellness. Not to mention all the fantastic nurses we help find roles for, of which 9 out of 10 are females.
Throughout this celebration, you can book comedy gala's, watch films, set a step goal and fundraise to support over the month and even host your own event. You'll note that health and wellness don't just mean attending a gym, but doing things that nurture you e.g. laughing! There are even talks on money wellness and dealing anxiety or other mental health issues, which is understandable given the year we have had.
If you're worried you may be alone in signing up to this, not to worry! There are thousands of woman all over Australia who sign up! 112,000 in 2019 participating in more than 48,000 events and 45,000 subscribing to the online campaign. On that note, why not suggest a daughter, sister, mother or friend to attend an event with you. What a month to utilise connection (which I understand many have felt a lack of this year) and celebrate yourself and yourself wellness and invest in something for you.
If you would like to learn more about how SustainHealth can help you find your next contract in Remote and Rural WA/NT, please contact our NT and WA Para consultant Rebecca Hall by emailing Rebecca@sustainhr.com.au or call 02 8274 4661.