SustainHealth: Top Tips for Your First Contract. It's Your Adventure!
Have you ever considered working short contacts in rural, regional or remote Australia? If you have but you're not sure where to start when it comes to making the arrangements or taking the first step, SustainHealth Recruitment can help!
We are experts in placing candidates in rural, regional and remote Australia and have a few top tips that might help you in considering taking the plunge!
It's your Adventure! Think about the adventure YOU want. Where do you want to work? Think about the climate, community and support you are looking for. This is especially important if your are doing your first contract. It's important to consider a larger tertiary remote site, that way you have time to immerse yourself in the local community and get used to the challenges of working in a new and potentially under resourced environment.
How long? Think about how long you want your contract to be. This is key, you need to think about how long you are comfortable being away from your home comforts as well as friends and family. Most contracts require a minimum commitment of 13 weeks to ensure continuity of care to patients and to give candidates like yourself the opportunity to settle in, will this work for you? Or are you looking for 6 or even 12 months worth of contract work? Either way we can help, just let us know your preferences!
Work, Learn and Save: Think about the benefits of outback work. Most contracts in regional, rural and remote locations offer travel and accommodation subsidies. You may also be eligible for remote living allowances, additional leave or travel benefits, as well as salary packaging and other tax offsets. Remote contracts could be a great way to save money, up skill and take a working holiday in Australia's beautiful outback communities.
Ask Questions: Think about the cultural diversity you will experience and the new skills you will learn in your new role! Australia is a beautiful melting pot of culture, tradition and community. What are you looking for? Do you want to work in a remote indigenous community in outback NT or WA or maybe you want to travel to a rural township in country Victoria or NSW? Each location is different and It's key that you are aware of the culturally appropriate dress, rituals and expectation prior to choosing your contact. Your SustainHealth consultant can help guide you in the right direction, so please don't hesitate to ask us more about your chosen location!
Get your SustainHealth e-book! Our final top tip is to ask your SustainHealth consultant for a copy of our new e-book. This downloadable brochure will give you all the advice you need for a successful outback placement. Ask your SustainHealth consultant for your copy today, you can reach us on 0282744677 / info@sustainhr.com.au
Take a sneak peak at our outback locum brochure, we have featured a few snippets for you below!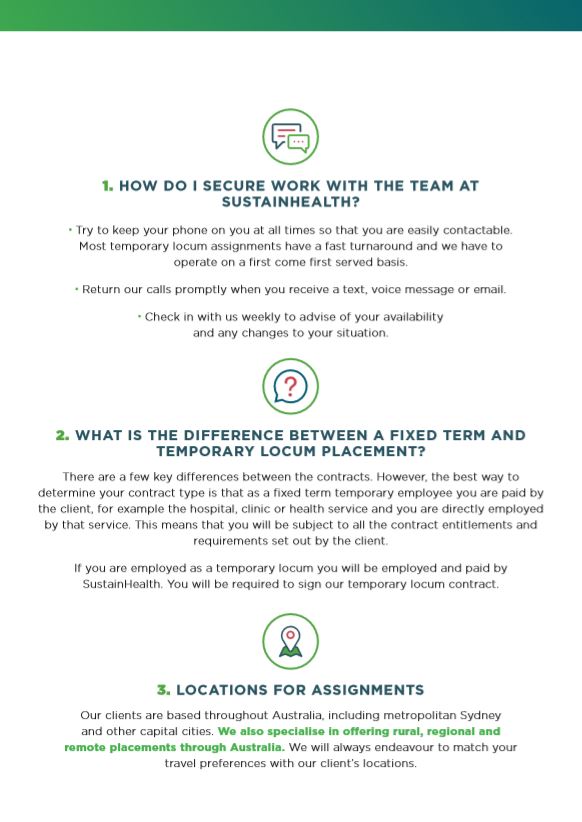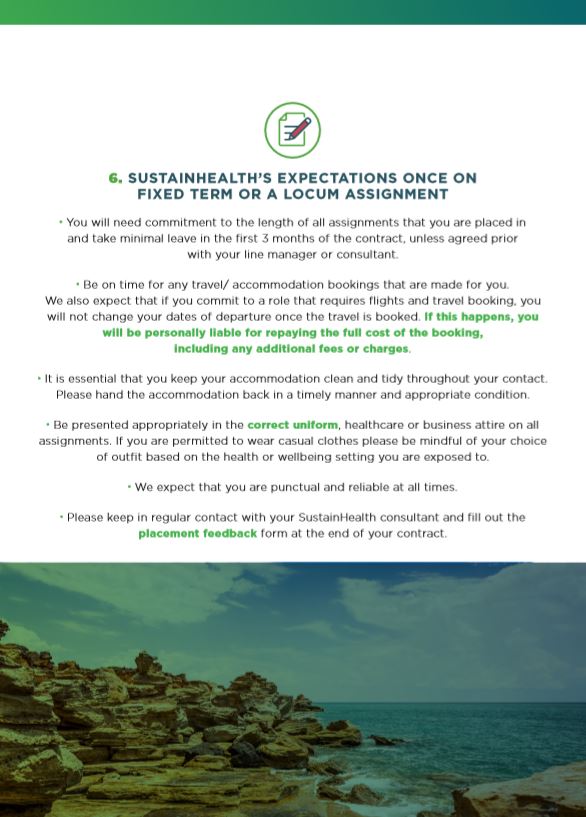 To view the full handbook or find out more about how SustainHealth can help you, please email us on info@sustainhr.com.au or call us on  02 8274 4677. We look forward to working with you!