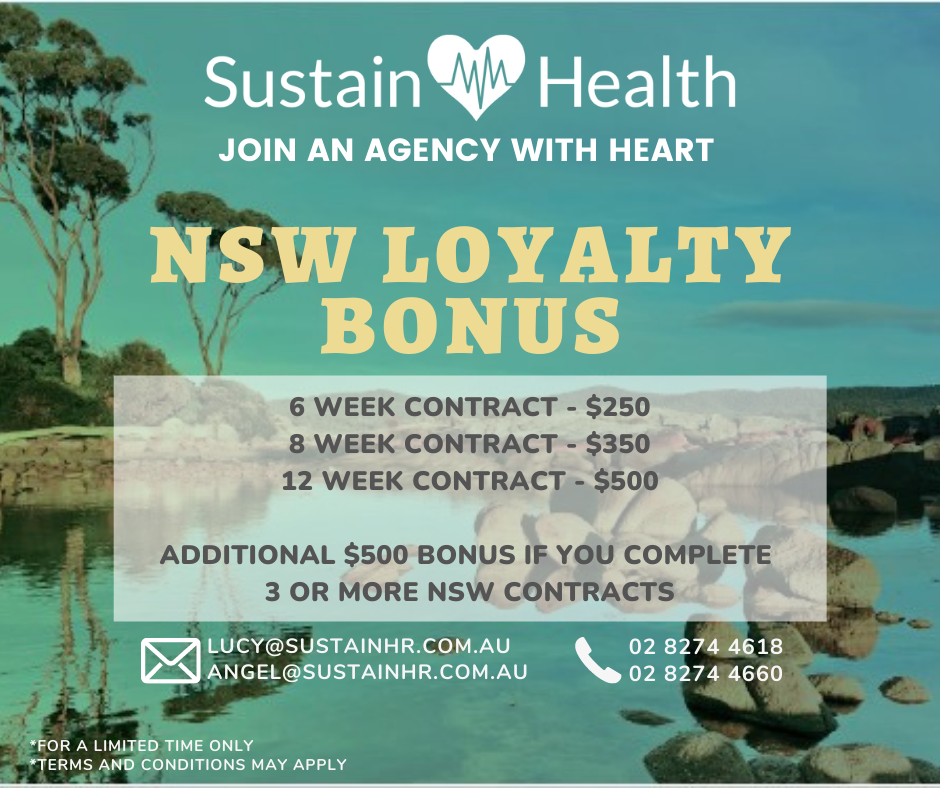 SustainHealth Rewards: NSW Health Loyalty Bonus Card
SustainHealth are launching a new incentive for nurses who work in an NSW Health contract between 1st of May until 30th of September 2022!
For a limited time only, we are offering a loyalty bonus card for completing 6 to 12-week contracts through SustainHealth!
This incentive will run from the 1st of May until the 30th of September 2022.
Visa gift cards start from $250 – $500 depending on the contract length.
To show our LOVE for your LOYALTY we are offering an additional $500 to nurses that complete 3 or more 8+ weeks contracts for NSW Health.
** Terms and conditions apply, please see below:
---
Terms and conditions:
Dates of promotion are 1st of May until 30th of September 2022 inclusive
Loyalty Bonus will be provided as VISA/Mastercard debit card or Gift Voucher of your choice
The value of the VISA/Mastercard debit or Gift Voucher will be either $250, $350, or $500 according to the weeks of completed work. This will likely be delivered to you via registered post
Loyalty Bonus will be awarded once you have successfully completed 6, 8, 12-week contracts only within an NSW Health contract role
| | |
| --- | --- |
| Contract Weeks Completed | Bonus offered |
| 6 weeks | $250 |
| 8 weeks | $350 |
| 12 weeks | $500 |
| 3 or more 8+ weeks contracts for NSW Health | Additional bonus award $500 |
If you leave your contract for any reason, do not start, or get asked to leave your contract at any time, or before the end of your assigned contract dates, you will not receive a Loyalty Bonus.
If you take leave for any reason during your contract and this impacts on start or end date, the Loyalty Bonus will not be awarded to you.
Please get in contact at the end of your contract with your updated address and we will distribute your gift voucher within 5 working days
You will receive the reward/ bonus no more than thirty days following you notifying sustain health you are eligible for the reward, this will be after the end date of your continuous assignment
 It is your responsibility to claim the bonus from SustainHealth once your contract has ended and you have completed this in full
To be eligible you must sign our voucher eligibility terms of business to receive the visa debit or Mastercard loyalty bonus which will be issued alongside all the standard compliance which is required for NSW Health.
The bonus may be rejected should you not be compliant with SustainHealth Recruitment framework for NSW health
Please note that all contracts or placements accepted or agreed to before the launch of this loyalty promotion will not qualify for bonus payments
Sustain health has no obligations to candidates who do not comply with Terms and conditions
The terms and conditions of this program are subject to change at any time without notice. This program may be terminated at SustainHealth Recruitment's discretion at any time
Additional NSW Health l Bonus incentive:
We want to reward our nurses for their loyalty and commitment and thank you for working for NSW Health in partnership with SustainHealth recruitment.
Nurses are entitled to an additional bonus award of $500 if they complete 3 or more 8+ week contracts within NSW Health for SustainHealth.
This incentive will be valid from 1st of May until 30th of September 2022
The visa debit will only be issued once all three contracts or more have been completed.
All terms and conditions apply for the additional loyalty bonus as previously outlined above
If you would like to hear more contact our NSW Account Managers:
Angel on (02) 8274 4660 or email Angel@sustainhr.com.au
Lucy on (02) 8274 4618 or email Lucy@sustainhr.com.au