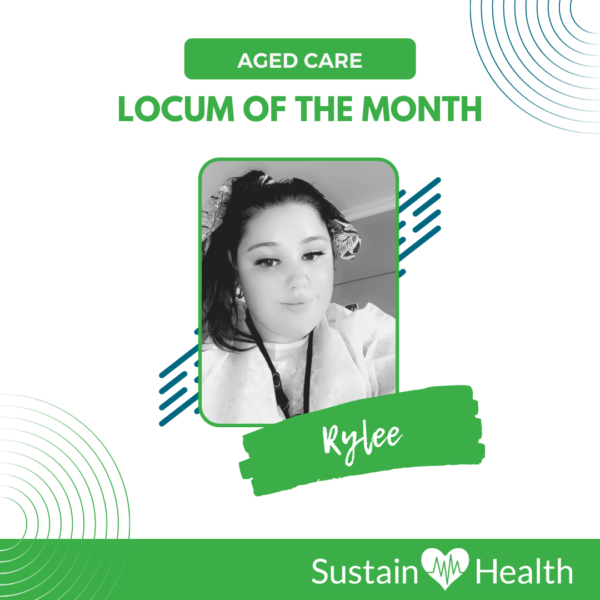 SustainHealth Locum Of The Month: Rylee, Assistant in Nursing
SustainHealth Recruitment are delighted to have Rylee be a part of the SustainHealth Candidate Experience Series as our April Aged Care Locum of the Month.
It's been wonderful working with Rylee and we look forward to continuing doing so in the future.
Read on to learn more about her story:
What is your current role?
Assistant in Nursing
How many years of experience do you have?
1 ½ years experience.
What's an interesting fact about you?
I tell great life stories
Where are you currently located?
Emu Park, Queensland.
How long is your contract for?
8 weeks with the option to extend.
Why did you choose this location?
This is my first ever agency contract but being close to the beach is always a bonus.
What has been the highlight of your contract?
How close my accommodation is to the beaches.
What do you want your fellow contractors to know about your location or job role?
The location is stunning and it is our job role to fit seamlessly in with the current work team to accomplish daily tasks on shift.
What essential items do you take with you when you leave home to work on a contract?
My own pillow! Sunscreen and swimmers!
How did you hear about SustainHealth?
I worked with a SustainHealth employee in my previous permanent job.
How have you found the service from your consultant at SustainHealth?
Excellent! Lauren has been nothing but helpful and communication is always good.
Would you recommend SustainHealth to colleagues or friends?
Absolutely! One of the best career choices I have made this far!
Final Word: What is your top tip for other health professionals when choosing their next contract?
Make the most of every contract! Work hard but also get out and explore the area, there is always a hidden treasure around the corner.
If you would like to learn more about how SustainHealth Recruitment can help you find your next contract in Aged Care Remote and Rural, please contact Ruddy at Ruddy@sustainhr.com.au or call 0415 049 720.