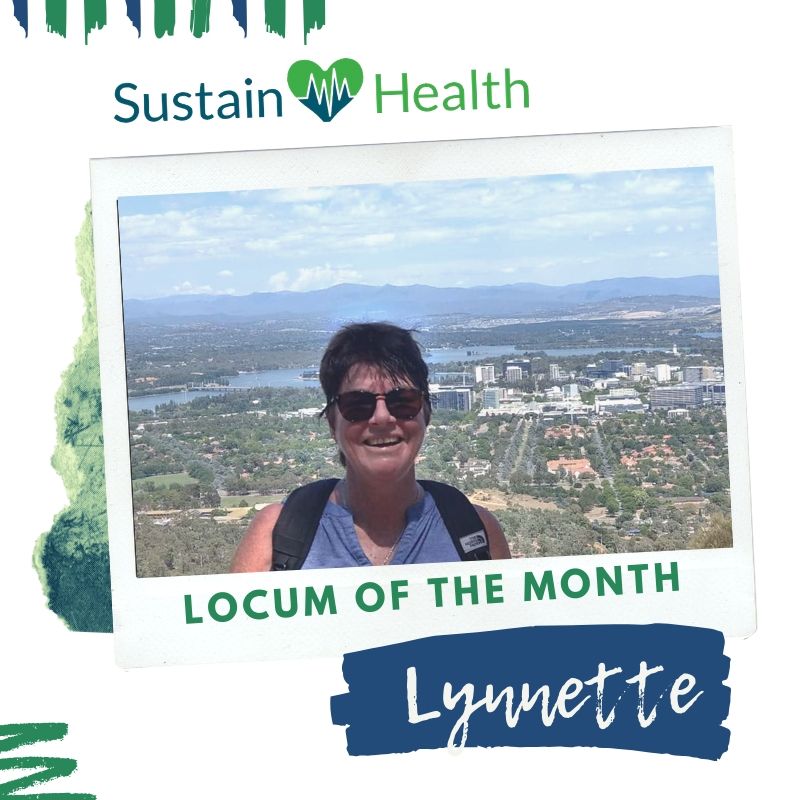 SustainHealth Locum Of The Month: Lynnette, Anaesthetic and Recovery RN
SustainHealth recently reached out to our December Locum of the Month, Lynnette who kindly agreed to be a part of the SustainHealth Candidate Experience Series and answered our questions in regards to her time working as an Anaesthetics and Recovery RN in QLD.
We asked Lyn to answer a few questions about her career and experience working with SustainHealth, read on to learn more about her story:
What is your current role?
Anaesthetics and Recovery RN.
How many years of experience do you have?
29 years.
What's an interesting fact about you?
My job is my passion, but I love to travel! When I'm not working you can find me taking my motorcycle out for a drive.
Where are you currently located?
I'm currently located in beautiful Central QLD
How long is your contract for?
I was originally offered a 3 week contract that has been extended for 2 months. I now I have a week remaining and hope to return again soon.
Why did you choose this location?
I appreciate new experiences and had never been to Central Queensland. So when SustainHealth presented me with the opportunity and I took it with both hands.
What have been the highlight of your contract?
Wow, where do I start? The interesting work that I do and the chance to work with some fantastic, skilled professionals, caring for my patients by doing a job that I am passionate about. The fishing is great too, there is lots to see and do here.
What do you want your fellow contractors to know about your location or job role?
Central Queensland is warm, very warm, and the locals are friendly. I'm located close to beaches and botanical parks, a great symphony orchestra. Lots of interesting places to explore. The Hospital is very professional with very high standards of patient care. The staff are great and so welcoming. I have been an Anaesthetic nurse for many, many years and still love going to work each day. No two days are the same and my patients make it special.
What essential items do you take with you when you leave home to work on a contract?
My thermomix, extra electrical plugs and cords, fishing rods and my sense of adventure!
How did you hear about SustainHealth?
My work colleague, who also gained work through SustainHealth, referred me as she believed the team could offer more opportunities than my current agency at the time and she was right.
How have you found the service from your consultant at SustainHealth?
Second to none. I find the consultants at SustainHealth honestly care about my wellbeing and feedback. This kind of support is unique and something I was not used to in the past. I feel looked after and they offer a good variety of work opportunities.
Would you recommend SustainHealth to colleagues or friends?
I do, at every opportunity.
Final Word: What is your top tip for other health professionals when choosing their next contract?
Make the most of every opportunity. Socialise with your colleagues and they can show you the best things to do in their town and offer lots of advice about the hospital you are contracted to, the staff, and things to see and do on your days off. Your contract can be as good, or bad as you make it. Appreciate everything that you are offered, because every day brings a new learning opportunity, new faces and a new experience. One important thing I do is always keep thanking the people who look after you in your accommodation especially the cleaners. They make coming home alone to a motel after a long day worth it.
If you would like to learn more about how SustainHealth can help you find your next contract in QLD, please contact Kelsey at Kelsey@sustainhr.com.au or call 02 8274 4692.