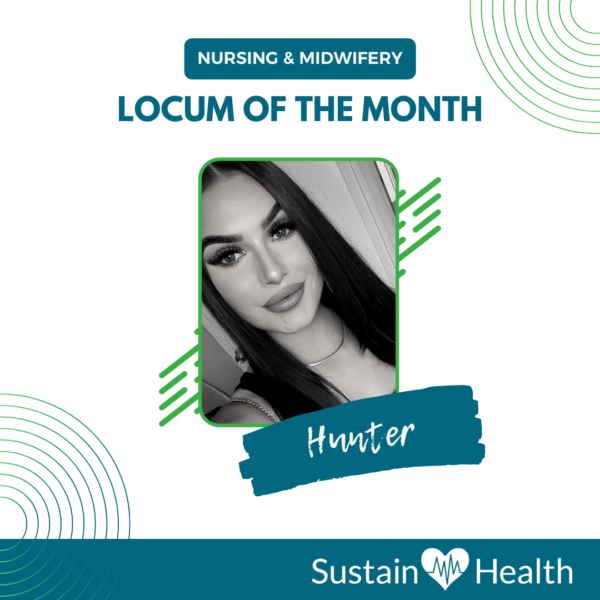 SustainHealth Locum Of The Month: Hunter, Day Surgery | EN and RN
SustainHealth Recruitment are delighted to have Hunter be a part of the SustainHealth Candidate Experience Series as our April Nursing & Midwifery Locum of the Month.
Hunter was kind enough to share her experiences and career in healthcare, read on to know more.
What is your current role?
My current role is working as a nurse within a day procedure and acute surgical unit. Working within surgical admissions, inpatient, surgical recovery, and discharges.
How Many years of experience as a nurse do you have?
I have three (3) years of experience as a nurse.
Where are you currently located?
I am currently located in Perth, WA, and working in Bunbury, WA 1.5 hours from Perth.
How long is your contract for?
3 months.
Why did you choose this location?
I choose to work in Bunbury because it is a regional hospital that will provide me with great opportunities and experience broadening my scope of practice as a nurse and helping advance my career. The close proximity to home and the amazing location to explore during my downtime also is a reason as to why I chose to commence a contract at this location.
What has been the highlight of your contract so far?
The highlight of my contract so far has been the opportunities given to work within a different niche of nursing. Learning new procedures/surgeries and the impact they have on my patient's quality of life.
What do you want your fellow contractors to know about your location or job role?
My advice would be to get out of your comfort zone and try something new! For me, transitioning into surgical has been a highlight in my career. The hospital where I am located is an amazing location that provides immense support to their staff. Never be scared to travel somewhere unknown or jump into the deep end and try a different area of nursing – Sustain consultants are always there to hold your hand and give you the support you need.
How did you hear about SustainHealth?
I was contacted by a consultant – who answered all my questions, and fears and put me at ease .. as I was terrified of trying something like this and stepping out of my comfort zone, the next thing I know I was commencing my first contract and became great friends with my consultant.
What essential items do you take with you when you leave home to work on a contract?
WEATHER-APPROPRIATE CLOTHING & Fluffy Slippers, A large supply of pens ( Nurses will know why ).
How did you hear about SustainHealth?
I heard about SustainHealth directly through a consultant and through word of mouth.
What is an interesting fact about yourself?
I did jujitsu and competitive cheerleading and was a state champion. I also did FIFO before realising that my passion was nursing.
How have you found the service from your consultant at SustainHealth?
I became very good friends with my consultant, I could always rely on her for support.
Would you recommend SustainHealth to colleagues and friends?
Yes, I would – and I actually do!
What is your top tip for other health professionals when choosing their next contract?
DO YOUR RESEARCH! Find things within the location that attract your attention. If you do your research you'll know what to expect and even be able to plan to do things on your days off – traveling for work.
If you would like to learn more about how SustainHealth Recruitment can help you find your next contract in Remote and Rural WA or NT, please contact Jonathan at Jonathan@sustainhr.com.au or call 0415 189 063.