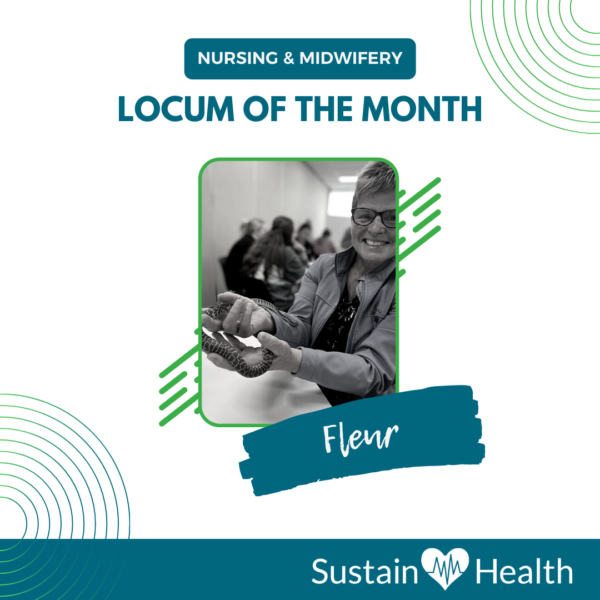 SustainHealth Locum Of The Month: Fleur, Nurse Immuniser
SustainHealth Recruitment are delighted to have Fleur be a part of the SustainHealth Candidate Experience Series as our March Nursing & Midwifery Locum of the Month.
It was lovely and our pleasure to work with Fleur and we look forward to future contracts with her.
We are thrilled to share her experiences and career in healthcare, read on to know more.
What is your current role?
Nurse Immuniser at Bendigo
How many years of experience do you have?
Believe it or not… 38 years since I started nursing!
A jack of all trades with a Nursing Degree and Graduate Diplomas in Renal and Critical Care. Experience in Paediatrics, Renal, ICU, Coronary Care, Cardiac Rehab, Nurse Education, Infection Control, Surgical Nursing, Nurse Immuniser.
What's an interesting fact about you?
I'm Currently studying Certificate III in Animal Studies and hoping to start studying Veterinary Nursing this year. I'm a passionate animal person, especially dogs. I have a Deerhound called Wilson, and, a lovely husband (can't forget Ross).
Where are you currently located?
Bendigo
How long is your contract for?
Unfortunately, my contract finishes next week and I'm looking for work.
Why did you choose this location?
It's my home.
What have been the highlight of your contract?
Working with a great team and helping in the pandemic. I have also really enjoyed my vaccination experience with the kids.
What do you want your fellow contractors to know about your location or job role?
I love Bendigo and what it has to offer. The role has been a breath of fresh air and a lot of fun in a great team.
What essential items do you take with you when you leave home to work on a contract?
I'm a minimalist, so don't need a lot. Luckily for me, I have been working in my home town, so I haven't had to pack a bag.
How did you hear about SustainHealth?
I think it popped up on my social media feed.
How have you found the service from your consultant at SustainHealth?
All have been wonderful and very supportive. Gabi Fuchs was so helpful when I started and has communicated with me all the way through. Rebecca and Zhari have also been wonderful supporters too. The friendly, helpful, and professional approach, but, also the humanity and care shown by the team towards me has been exceptional. Thank you all.
Would you recommend SustainHealth to colleagues or friends?
Absolutely!
Final Word: What is your top tip for other health professionals when choosing their next contract?
Do what you love, it brings reward, fulfillment, and happiness!
If you would like to learn more about how SustainHealth Recruitment can help you find your next contract in Remote and Rural VIC, please contact Gabi at Gabriela@sustainhr.com.au or call 0415 145 035.