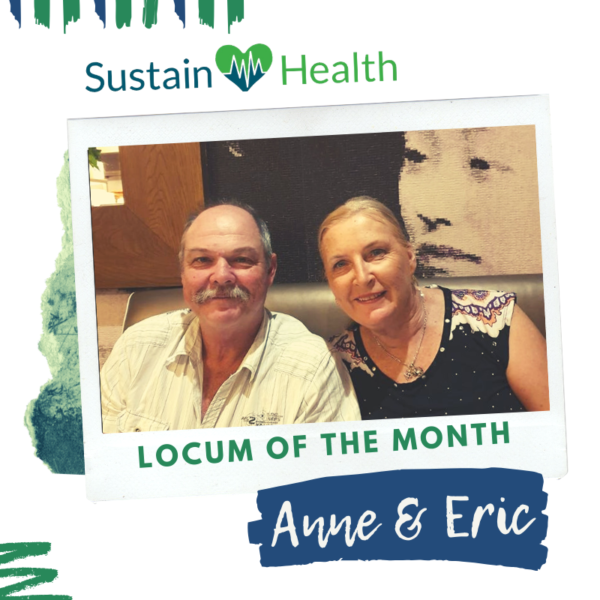 SustainHealth Locum Of The Month: Eric and Anne, Endorsed Enrolled Nurses
SustainHealth reached out to Anne and Eric Angerer to be our March Locums of the Month. They both kindly agreed to be a part of the SustainHealth Candidate Experience Series and have answered our questions in regards their experience working as an Endorsed Enrolled Nurse in Far West NSW.
It has been a pleasure working with such a lovely couple and we look forward to continue doing so in the future. Read on to learn more about their story:
What is your current role?
Anne: Both myself and Eric are Endorsed Enrolled Nurses.
How many years of experience do you have?
Anne: We have both worked as carers at a Nursing Home in Bundaberg QLD for about 6 years then we have been Nursing for about 15 years.
What's an interesting fact about you?
Anne: The interesting fact about us is we both enjoy meeting different people and enjoy travelling. We are both retired and this is our first time as Agency Nurses.
Where are you currently located?
Anne: We are currently located in Far West NSW.
How long is your contract?
Anne: I have been contracted for 2 months and Eric was contracted for 3 weeks.
Why did you choose this location?
Anne: We were contacted by SustainHealth Agency saying they needed Nurses urgently.
What have been the highlights of your contract?
Anne: The highlights of our contract so far has been working with amazing people and contributing our assistance when needed. These people work hard with limited resources only.
What do you want your fellow contractors to know about your location or job role?
Anne: The town is super friendly but the flies are really bad so bring plenty of flyspray and repellent. Our role as Endorsed Enrolled Nurses is to work in all areas of the Hospital, for example Emergency, Acute, and Aged care residents.
What essential items do you take with you when you leave home to work on a contract?
Anne: The most essential items that we took was all our Certificates, health records and resumes.
How did you hear about SustainHealth?
Anne: We heard about Sustainhealth because we seen a position that was advertised on my Facebook for Rural Remote Nurses.
How have you found the service from your consultant at SustainHealth?
Anne: We can not fault our Consultant Katie she has been wonderful and very helpful, she has made this transition to be very enjoyable and we consider her a friend as well.
Would you recommend SustainHealth to colleagues or friends?
Anne: We definitely recommend Sustainhealth to our friends and colleagues and anyone that is interested in Rural and remote Nursing.
Final Word: What is your top tip for other health professionals when choosing their next contract?
Anne: Our top tip for other health professionals when choosing their next contract would be to contact SustainHealth if you're thinking about joining
an agency.
If you would like to learn more about how SustainHealth can help you find your next contract in remote or rural NSW, please contact our NSW consultants Katie and Elaine on the following:
Katie@sustainhr.com.au or call 02 8274 4689
Elaine@sustainhr.com.au or call 02 8274 4660