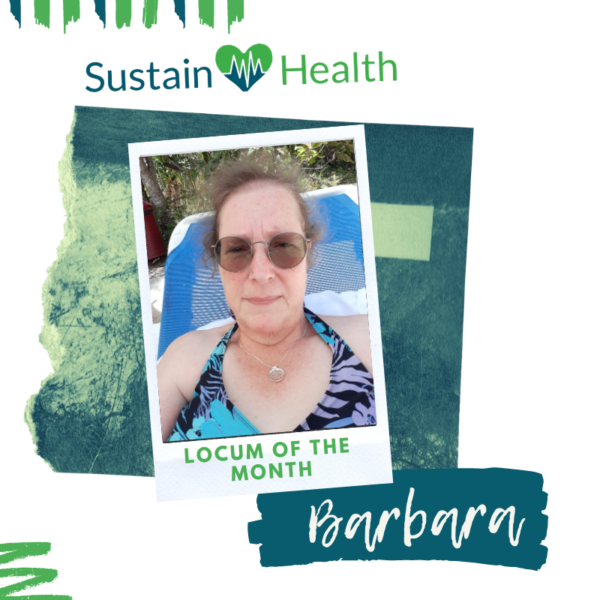 SustainHealth Locum Of The Month: Barbara, Psychiatric Liaison Nurse
SustainHealth recently reached out to our August Locum of the Month, Barbara who kindly agreed to be a part of the SustainHealth Candidate Experience Series and answered our questions in regards to her time working as a Psychiatric Liaison Nurse.
Barbara has previously completed contracts with SustainHealth and has just started another one this month. It has always been a pleasure to work with her throughout every placement.
Read on to learn more about her story:
What is your current role?
I am currently working as a psychiatric liaison nurse in a busy Emergency Department. My role involves assessing anyone who attends ED that the staff feel concerned may have some mental health problems.
How many years of experience do you have?
I have been a mental health nurse for over 40 years I trained in Portsmouth, England hospital-based so I am RMN trained.
What's an interesting fact about you?
An interesting fact about me is that my parents were a pearly king and queen back in England so I guess that makes me a princess!!
Where are you currently located?
Currently, I am working in rural WA a mining coastal town.
How long is your contract for?
My contract was originally for 6 weeks but they have asked me to stay for another 6 weeks.
Why did you choose this location?
I chose the location more the job which was triage for the first 6 weeks
What has been the highlight of your contract?
The highlight has been the wonderful, staff I have had the pleasure to work with and the sunsets.
What do you want your fellow contractors to know about your location or job role?
Both roles have been challenging but I have been greatly supported. If offered work in rural WA I would suggest you come for a while.
What essential items do you take with you when you leave home to work on a contract?
I always bring my knitting, good books and comfortable shoes.
How did you hear about SustainHealth?
I heard about SustainHealth from follow workers who have also used SustainHealth as their preferred agency
How have you found the service from your consultant at SustainHealth?
My consultant has been wonderful. She has helped guide me through all I needed to complete with patience, kindness and respect. Thank you, Rebecca.
Would you recommend SustainHealth to colleagues or friends?
I already have recommended you.
Final Word: What is your top tip for other health professionals when choosing their next contract?
Top tip location, but seriously do your homework about where it is and what facilities are available and see if anyone else has worked there to find out about the environment.
If you would like to learn more about how SustainHealth can help you find your next contract in Remote and Rural WA/NT, please contact our NT and WA Para consultant Rebecca Hall by emailing Rebecca@sustainhr.com.au or call 02 8274 4661.