SustainHealth: Join A Team With Heart!
Here at  SustainHealth HQ we are on the look our for talented individuals who are interested in a rewarding career in health and wellbeing recruitment.
SustainHealth are a fresh, forward thinking start up agancy, who deliver industry leading recruitment solutions to each and every one of our clients and candidates Australia wide.
Put simply, we are honest, flexible, accountable and collaborative. We expect the best from our team and in return you can expect the best from us as your employer.
Our Vision
SustainHealth are deliberate about delivering high calibre recruitment solutions to every customer. We go the extra mile to ensure that excellent service and value reaches every corner of Australia's health and wellbeing communities.
Our Culture
Connection, collaboration and teamwork uphold our high performing and results driven culture. At SustainHealth we promote and encourage a flexible, healthy and balanced approach to work. We support personal and professional growth and like to give back to the communities we support near and far.
We believe in sustainable relationships that are built on integrity, trust and accountability. Like our customers we value compassion. We listen and work as a team to deliver excellence in customer care. Feedback and positive communication are the key to our growth, our success and above all, our sustainability.
Who are we looking for?
We look for professional, passionate, energetic applicants, who are enthusiastic about health and social care.  You might have a background as a clinician or maybe you're currently working as a retail, customer service or sales professional. You may have been working in a HR or recruitment setting or perhaps you're a new graduate with a desire to kick start your career. Maybe you're working for an agency or internal recruitment team, have a proven track record of success, but you're ready for a change. If so we would be delighted to hear from you.
The key to a successful career with SustainHealth is your "can do" attitude and integrity.
Take a look at the snapshots of our new e-book, it's packed with key information about day to day life as a team member at SustainHealth.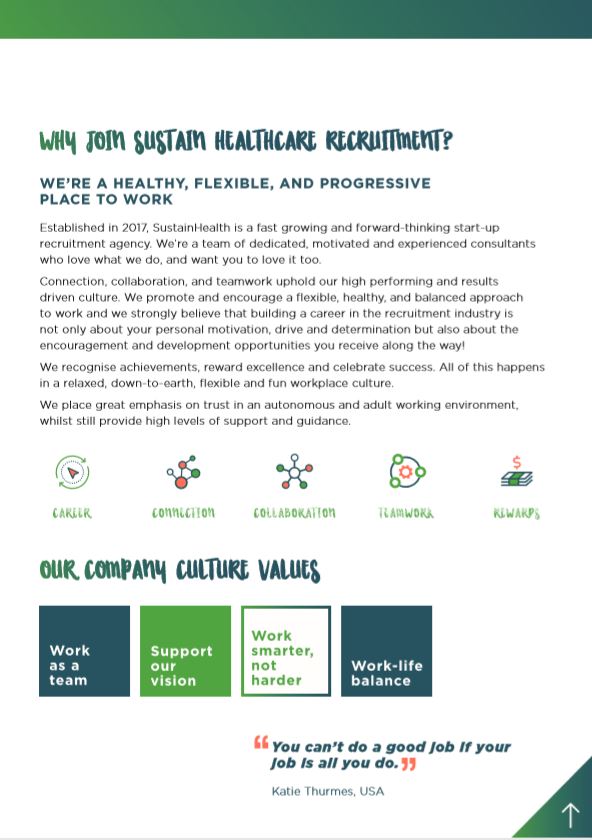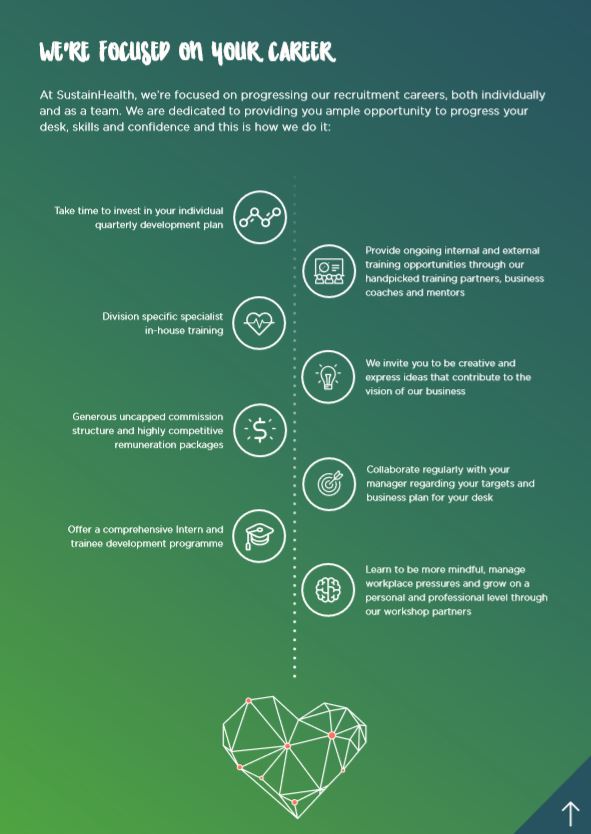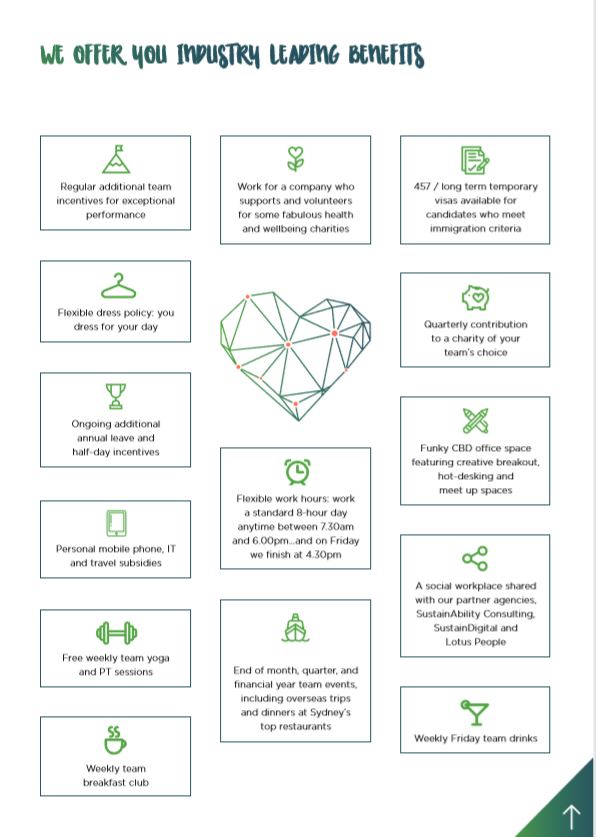 If you would like to request a free copy of our e- brochure or would be interested in finding out more information please email us at info@sustainhr.com.au or call for a confidential conversation on 02 8274 4677.
You can also learn more about career opportunities with SustainHealth on our website, via our  JobAdvisor  page, or of course read through our past blog posts.