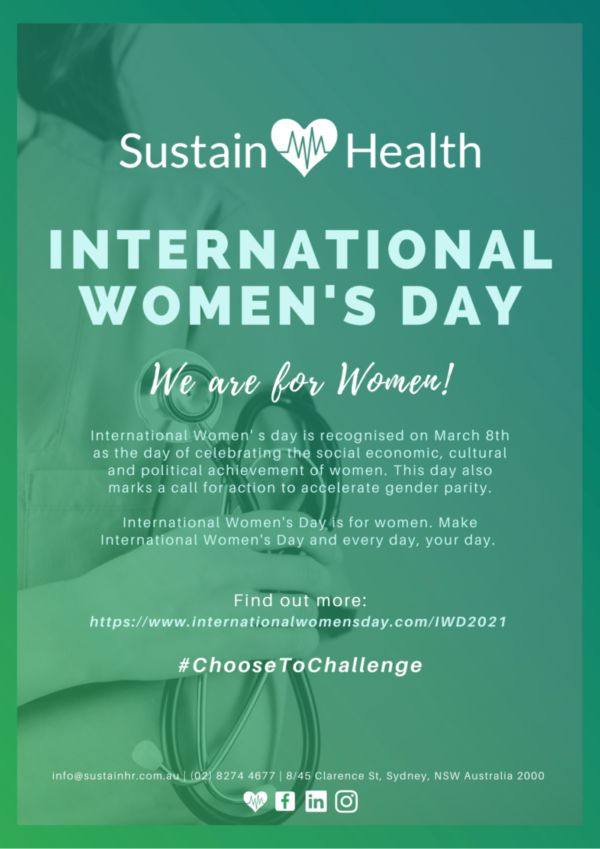 SustainHealth: International Women's Day. #ChooseToChallenge
International Women' s day is recognised on March 8th as the day of celebrating the social economic, cultural and political achievement of women. This day also marks a call for action to accelerate gender parity.
International Women's Day is for women. Make International Women's Day and every day, your day.
Women are Well Represented in Healthcare, Just Not at the Top!
At SustainHealth Recruitment, we work across many health and wellbeing sectors where women are generally well represented. We are proud to work directly with and engage with women on a daily basis to empower them to achieve their best in their workplaces and their lives.
SustainHealth Recruitment is currently an all-female team, guided by our director and founder, Kay Reynoldson, who is passionate about women led businesses and women in health. Whilst healthcare does have wide ranging female representation, a trend that we at SustainHealth have recognised in the health and wellbeing sector, is the challenge of women being underrepresented in leadership positions throughout Australia.
Our team are passionate and focused on advocating for change and increasing awareness around this matter, with the hope of influencing positive change in the market.
Our Favourite Books:
These are the books that inspire and energise the SustainHealth team, clients and candidates and we wanted to share them with you, in honour of IWD.
Boys Will Be Boys: Power, patriarchy and the toxic bonds of mateship
Women and Leadership: Real Lives, Real Lessons
by Julia Gillard, Ngozi Okonjo-Iweala
Growing Up Aboriginal in Australia
Our Favourite Podcasts:
These are the podcasts that inspire and energise the SustainHealth team, clients and candidates and we wanted to share them with you, in honour of IWD.
The Happy Nurse with Elaina Mullery
High Performance Nursing Podcast with Liam Caswell
Introducing: Unlocking Us with Brené Brown
A Podcast of One's Own with Julia Gillar‪d‬
How To Fail With Elizabeth Da‪y‬
Share the Dignity – Our 2021 Female Focused Charity Partnership #ChooseToChallenge
SustainHealth Recruitment continues to support our charity partner Share the Dignity every festive season. The festive season can be a difficult time for some, by donating these gifts, it is our way of giving back to those less fortunate at this time of year.
Share the Dignity is an Australian woman's charity focused on helping women who are experiencing or at risk of domestic violence, homelessness or poverty throughout Australia.
SustainHealth have been partnering with Share the Dignity's #itsinthebag campaign for four consecutive years. Our amazing team, clients and candidates have kindly donated a more than 100 bags to women and girls in need.
By donating to the #itsinthebag collection, we all have the power to make life a little better for a woman or girl experiencing or at risk of homelessness or poverty, by donating a handbag or wash bag full of essential items.
To take part in the #itsinthebag campaign, simply choose a handbag in good condition that you no longer use and fill it with useful things and little luxuries for women and girls, like sanitary products (pads and tampons), personal hygiene products and everyday essentials. Other relevant items are those little things you need every day, from your toothbrush to your hairbrush. If you' re stuck for ideas to fill your goodie bag, ask yourself, what would a homeless woman need? Chances are, she needs the same personal care and sanitary items you do.
For more information on Share the Dignity please visit: https://www.sharethedignity.com.au/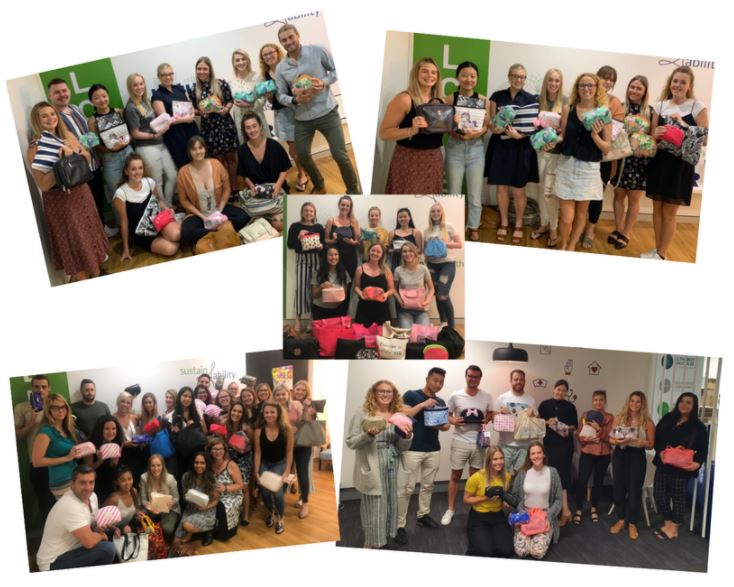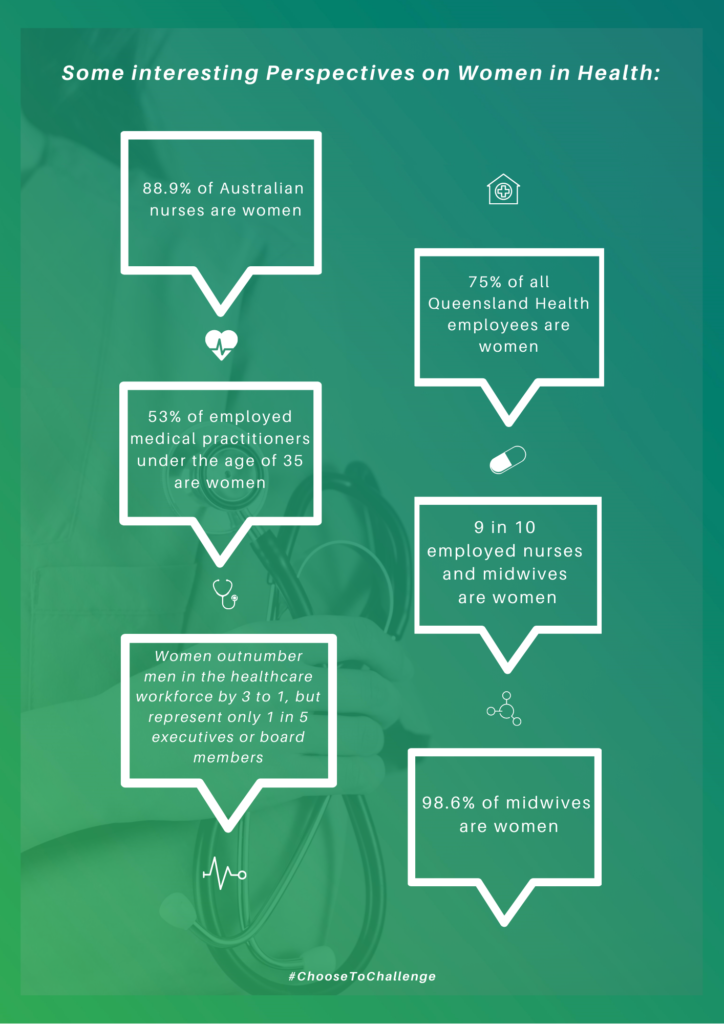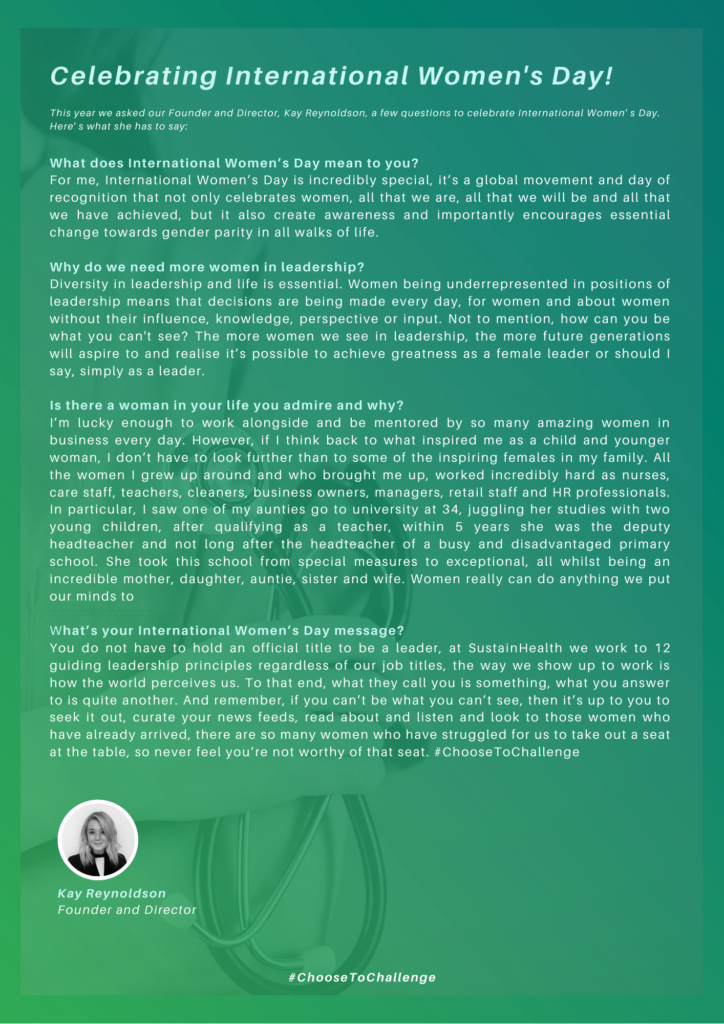 Join a Team with Heart!
We are helping to shape the future of the health and wellbeing industry and ensure that people in remote communities have access to the quality healthcare and support services they deserve. Reach out via email at ComplianceTeam@sustainhr.com.au or call Rachell for a confidential conversation on 02 8274 4687.
If you would like to learn more about International Women's Day, request a free copy of our 2021 e-brochure via email at info@sustainhr.com.au.