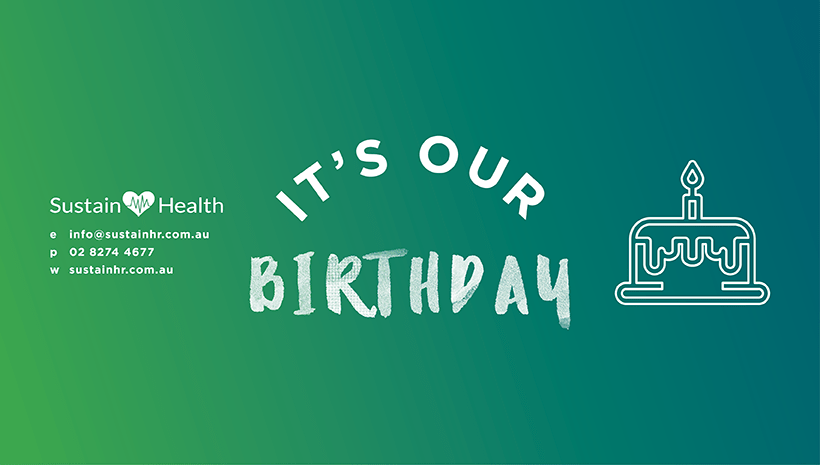 SustainHealth: Happy First BirthYAY To Us!
What an incredible and exciting first year it's been here at SustainHealth. I can't believe we are already 1 years old! Eeek, it's a real pinch myself moment!
Since our launch on July 31st 2017, we have focused heavily on supporting the healthcare community and providing high-level recruitment solutions to communities in need, Australia wide.
At SustainHealth we put a huge emphasis on our people and care deeply about creating a positive, high performing and healthy workplace culture. A culture where our team can shine and truly be themselves. It's because of this supportive and balanced approach to our working days that we have grown substantially since our launch and we are able to deliver a comprehensive and consultative service to each of our clients and candidates. I can proudly say we are now a VERY busy team of 5 and have plans to continue expanding our divisions further in the coming months.
We are extremely proud of our ongoing commitment to encouraging a health-conscious internal team and will continue to provide our workplace wellbeing initiatives, including free weekly PT and Yoga sessions for each of our teammates, with plans to extend this programme to mindfulness classes in the near future!
This year we have had the opportunity to give back to the local communities through our charitable partnerships with Wesley Mission, Share the Dignity, Cancer Council Australia, and OzHarvest. Volunteering our time, fundraising and donating goods or indeed money to under-resourced projects. It's been our pleasure to support the fantastic work of our charitable partners and look forward to continuing our support of other projects.
It's also been a busy year from an internal operation and financial perspective, SustainHealth have overachieved on all of our first-year growth targets and are on track for a strong second year in the market.
It really has been an unbelievable first year in business. As a team, we continue to be amazed by the support and encouragement from each of our customers, business partners, and suppliers. So THANK YOU to each individual who has supported and believed in our service since day one, we look forward to continued success in year two and beyond!
Kay Reynoldson
Founder & Director
02 82744677 | 0422175160
Kay@sustainhr.com.au