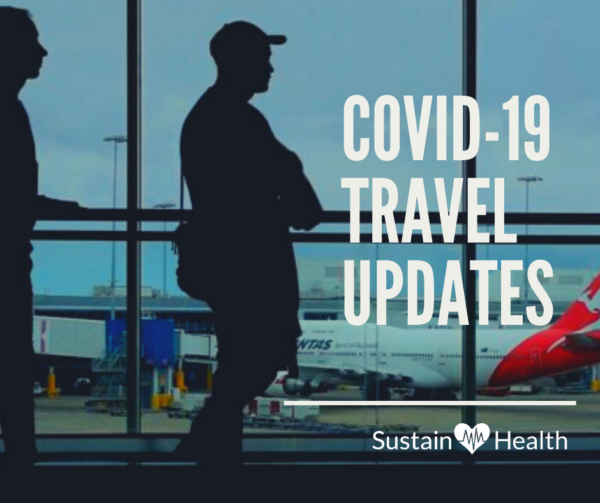 SustainHealth: COVID-19 – Australian border restrictions and conditions
The SustainHealth team would like to share the current advice relating to travelling between Australia's States and Territories. Here are a few things to keep in mind when your travelling in Australia in regards to the COVID-19 Australian border restrictions and conditions.
1. The Border restrictions
There are Australian states and territories that have closed their borders to reduce the spread of COVID-19. Health professionals are normally exempted from border restrictions however ensure that you take with you all proof of your status as a healthcare professional. Below are examples of documentation that be used as proof.
Current ID
AHPRA card or a copy of your registration that you can download online
Copy of your Job Confirmation Letter with the hospital contact information
Copy of the Hospital Locum Contract
PPE
Printed copy of the self-quarantine exemption decision (for TAS only)
A risk assessment on arrival or self-isolation may be required in State and Territory health boards and individual hospitals/practices. They are at the moment updating their policies as needed.
2. Travel and self-isolation information by State
Northern Territory (NT)
Quarantine-free entry will be granted only to essential workers from other parts of the country. Along with our travel documentation recommendations listed above, you should also have a letter from the medical practice or hospital your supporting that you are required in the community.
Queensland (QLD)
There are only 3 roads remain opened in QLD with police checkpoints on the QLD-NSW border. Health professionals can apply for a border pass and for more information about exemption in place for Medical Professionals, please click here.
South Australia (SA)
Health staff members returning from interstate will be required to self-quarantine for 14 days before returning to work. The Chief Executive of the Department for Health and Wellbeing may grant exemptions where an assessment has been undertaken by the Communicable Disease Control Branch (CDCB) and once a recommendation has been secured that the exemption is warranted to maintain a critical service for business continuity.
Tasmania (TAS)
Locum Nurses and health professionals that will travel in TAS must submit the "Individual Quarantine Exemption Application (Health Service)" application form within a minimum of 24 hours of arrival or a maximum of 72 hours before arrival into Tasmania. The applications submitted greater than 72 hours prior to arrival will be rejected, the form then needs to be re-completed and re-submitted within the 24-72-hour time frame.
Assessment of applications is on a case by case basis depending where you have travelled in the past 14 days and worked over the past 21 days. However, consideration will be to the role you have been recruited to based on the essential nature of the role and the patient/client group you will see/treat. You must not assume an assured exemption will be granted and should not travel to Tasmania without the result of your application.
A Locum Nurses or health professionals who arrives in Tasmania prior to an exemption being granted must complete the 14-day self-quarantine period or should return to mainland Australia. If an exemption is granted  you will be able to commence at the work planned, below are a few things to consider.
Some restrictions may still be applied by the Chief Medical Officer, this may alter your usual practices. For example, a requirement to use PPE
Exemptions are only applicable for the purposes of carrying out the health services identified in the application. If you wish (or is asked by the work unit) to do any additional or alternative services, you must reapply for an exemption for those new services
If you are not carrying out the approved work duties, you should uphold quarantine standards for 14 days from arrival in TAS including staying at your home base. It is not advised to go into public places and only people who usually live with you should be in the home base
Western Australia (WA)
Quarantine-free entry will be granted only to essential workers from other parts of the country, however, each region may risk-assess interstate medical practitioners according to risk of prior COVID-19 exposure and certain clients might have their own requirements regardless of the state/territory outlined border closures. If the health professional is high risk, the health service may determine that self-isolation for 14 days is required.
Here are some examples of a Risk assessment:
Work completed in the previous 4 weeks (Emergency Department – GP practice – patients homes)
Where you've travelled from (Metro NSW – Metro SA – Rural QLD)
Work to be completed in WACHS and vulnerability of patients/community (Indigenous community – non-indigenous community)
Duration of contract
If you would like to more information on how you can help prevent the spread of COVID-19 please contact SustainHealth by emailing info@sustainhr.com.au or call 02 8274 4687