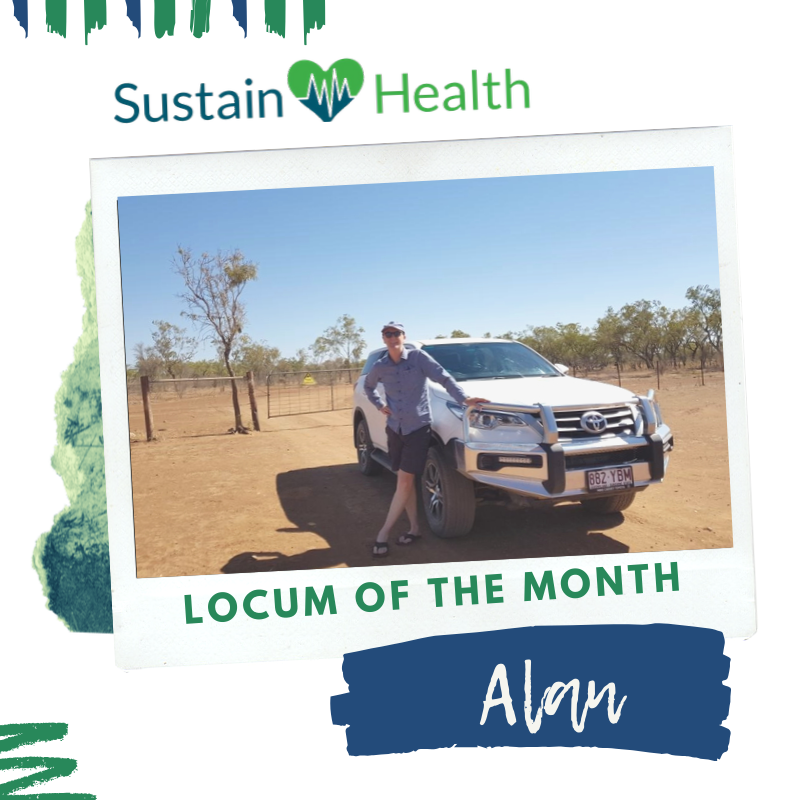 SustainHealth Candidate Experience Series: Alan Registered Nurse and SustainHealth's Locum Of The Month
SustainHealth recently reached out to our Locum Of The Month, Alan who agreed to be a part of the SustainHealth Candidate Experience Series and answer our questions in regards to his time working as a RAN in Queensland.
We asked Alan to answer a few questions about his career and working with SustainHealth, here is what he had to say:
What is your current role?
RAN at  busy Aboriginal Controlled Medical Service in Queesnand.
How many years of experience do you have?
Started nursing in 1978! I worked as nurse manager at a Community Health Centre in Gippsland, Victoria until 2011. I gained a Masters in Remote and Indigenous Health at the Centre for Remote Health in Alice Springs. Then branched out to remote nursing taking me to far flung places including APY lands, Torres Straits the Kimberly and Broome.
What's an interesting fact about you?
I have a blueberry farm.
Where are you currently located?
North West QLD
How long is your contract for?
Until December, 2 weeks on 2 weeks off, it's been a great FIFO opportunity.
Why did you choose this location?
Wanted a remote indigenous community and this one had no on call shifts, which I personally prefer.
What essential items do you take with you when you leave home to work on a contract?
My push bike and Aeropress coffee maker.
How did you hear about SustainHealth?
Through an online search of nursing agencies.
How have you found the service from your consultant at SustainHealth?
Absolutely excellent service. Professional, friendly and responds very quickly to any requests such as travel arrangements.
Would you recommend SustainHealth to colleagues or friends?
Have done so already. The team are great!
Final Word: What is your top tip for other health professionals when choosing their next contract?
If  thinking of working remote I always suggest you do an online search of the town and it's surrounds. If appropriate I generally call ahead to introduce myself to the service and ask any relevant questions relating to such things as accommodation, shopping and town services.
Thank you to the amazing Alan, who participated in our candidate blog for October and for sharing his experiences as a RAN.
If you would like to learn more about how SustainHealth can help you find your next contract in QLD, please contact the fabulous Amanda Quinn on Amanda@sustainhr.com.au or call, 02 8274 4606.