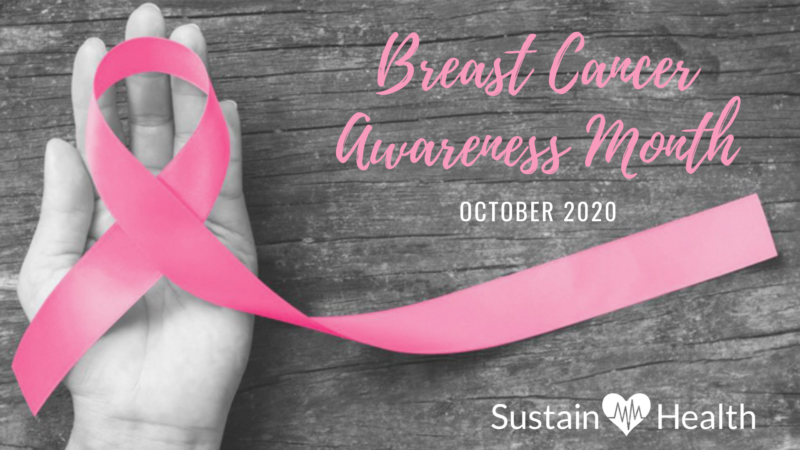 SustainHealth: Breast Cancer Awareness Month 2020
October is Breast Cancer Awareness Month. It is a time for us women, to show support by helping increase awareness of breast cancer. It is important for every woman to ensure that they have access to education, screening, treatment, support and hope.
I'm sure a lot of us have been affected either directly or indirectly by Breast Cancer, so it is important that we know the signs and are aware of any changes in our body. Breast Cancer is still one of the most common cancers among Australian Women and worldwide. But also remember Men can also get Breast Cancer, which is a fact most people are not aware of.
Let's take the time this month to find out what we need to know about breast awareness and to share this important information with family, friends, and colleagues.
Finding breast cancer early provides the best chance of surviving the disease. Remember you don't need to be an expert or use a special technique to check your breasts.
Here's a few changes to look for but it's important to see your doctor without delay if you notice any of these changes.
• a new lump or lumpiness, especially if it's only in one breast
• a change in the size or shape of your breast
• a change to the nipple, such as crusting, ulcer, redness or inversion
• a nipple discharge that occurs without squeezing
• a change in the skin of your breast such as redness or dimpling
• an unusual pain that doesn't go away.
We have listed a few organisations that help fight Breast Cancer, get involved and join the movement!
• National Breast Cancer Foundation
• McGrath Foundation 
• National Breast Cancer Foundation, Inc.
• Prostate & Breast Cancer Foundation
If you're interested in finding out more about a career with SustainHealth, we would love to hear from you.
info@sustainhr.com.au
02 8274 4677