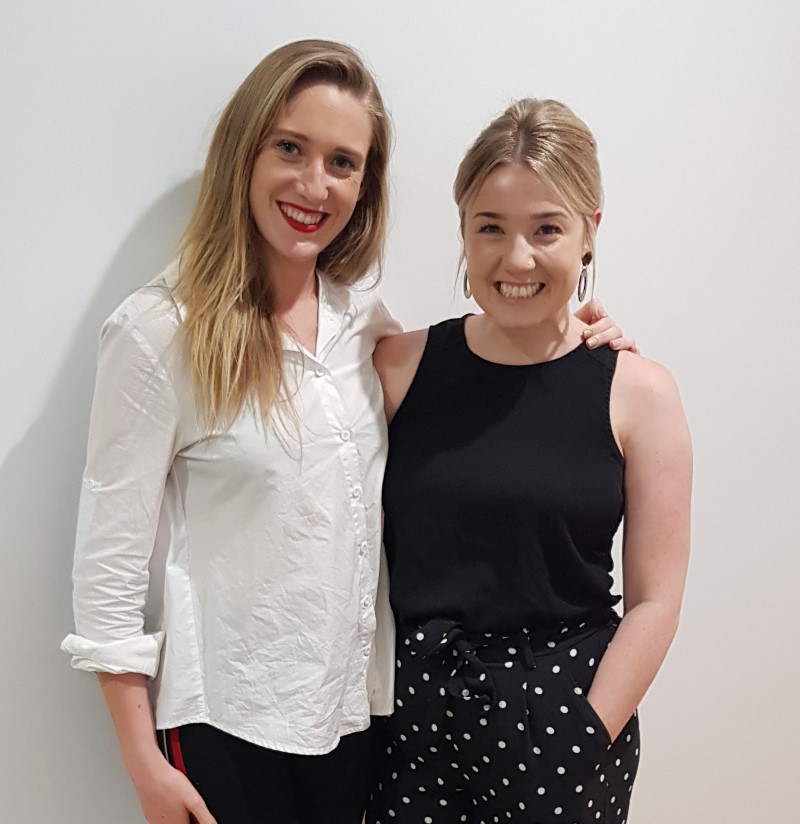 SEEK Annual Recruitment Awards Q&A with SustainHealth and Lotus People
Seek Annual Recruitment Awards here we come!
With only four years in business between us, SustainHealth and our sister brand Lotus People are incredibly proud to both be nominated as finalists in the fiercely competitive Small Recruitment Company of the Year category in the Seek Annual Recruitment Awards 2018 (SARA).
With the glitzy awards night taking place in Melbourne this week, SustainHealth director Kay Reynoldson and Lotus People director Sinead Connolly talk to us about what this achievement means to them, why their companies are such stand-outs and who they secretly think will win.
Congratulations both of you on such a momentous achievement. You must be so excited. What does it mean for you both personally and for your teams to be finalists?
Kay: We're absolutely delighted having only been in business for one year! This was our first awards entry and the team was heavily involved in creating the content for our submission. As it was such a team effort, making it as a finalist really does make the nomination even more special.
Sinead: These awards are definitely the most well-respected in our industry and we've entered every year. We were so honoured to also be finalists in our first year of business back in 2016. It was a real pinch ourselves moment so I know how excited Kay must be feeling!
The competition for this category is fierce: why do you think you've both been shortlisted?
Sinead: It's really competitive and usually the category with the most submissions, which is why it's so amazing both SustainHealth and Lotus have made the cut. I think part of the reason Lotus has been named as a finalist is due to our consistent growth – our last three financial quarters have been record breaking.  And while we're growing in terms of revenue, my energy is also spent making sure we're focused on the bigger picture too. Maintaining a strong and supportive culture where my team feels valued and supported is so important to me. A successful agency has to be focused on a holistic way of working, not just on the bottom line.
Kay: When I launched SustainHealth I really wanted to create a company culture that was inclusive and a space where my team could genuinely be themselves at work. Not only have we achieved this in such an authentic manner, but for such a young start-up we've also implemented progressive and collaborative company processes and incentives. Because our team was so heavily involved in the application for our SARA submission, our passion and cohesion must have been apparent to the judges.
Why do you think you both offer such great places to work?
Sinead: At Lotus, we have a people first approach where my team feels valued. We've created a high performing environment where hard work and commitment is rewarded with flexibility, incentives and having fun. Last year, I sent a confidential survey to the entire team asking for ideas and contributions around CSR, events, culture, incentive ideas and more, and throughout the year, we've implemented the majority of the ideas suggested. This collaborative approach ensures everyone is being heard and is part of our wider business strategy.
Kay: For me, it would be easy to highlight our wellness program, team CSR days, or the free snacks as to why we are so awesome! But, if I'm honest, whilst those things do set us apart to some degree, I think what makes us such a great place to work is because, where possible, we work to our team's strengths. Similar to Lotus People, we've created a highly productive, results driven and positive working environment.
It's a tough market out there for recruitment start-ups. What do you think differentiates you from your competitors? 
Sinead: I do think we're quite different. We have strict processes and systems in place and our administrative best practice is highly unusual in our industry. And our internal culture is definitely more relaxed. Although we have high standards of working, we're often sitting around in our yoga or gym gear and have an authentic and genuine approach, instead of being a corporate secretarial style agency. We have an unusually high candidate referral rate and I think this culture definitely shines through.
Kay: Having worked in recruitment for close to six years prior to launching SustainHealth, I've experienced first-hand how team culture really can make or break a business. Although it sounds clichéd, what really sets SustainHealth apart is our values. We genuinely live them. They're not just something we refer to, or something that's printed in our company literature. We work in a trusting and accountable environment and extend these same values to each of our clients and candidates.
How closely do you work together as sister brands? How would you describe your relationship?
Sinead: As we recruit in totally different sectors, we don't have much involvement day to day. But at a higher level, we refer clients and make introductions where we can. We sit down quarterly with Hollie Colbert, founder of one of our other sister brands SustainDigital, to debrief and support each other. I feel lucky to be a part of a group of talented female leaders who I can learn from and be inspired by.
Kay: Our brands may all operate in different markets and in uniquely different ways, but we're all very supportive of each other and collaborate closely at an executive level. Above all we've created an overarching group and office culture that makes for a happy, productive and accountable environment for our employees.
Are you both looking forward to the awards night next week? Is there friendly rivalry between you both? And who do you secretly think will win (we won't tell anyone!)?
Sinead: We're all so excited and I'm so happy to be in a position to be able to fly the whole team to Melbourne to celebrate all of the successes we've had. Kay has been kind enough to add a couple of our consultants to her table, so I know that if either of us wins, the success will be shared by both teams. It's a very competitive category so we'll just be delighted to join in the celebrations on the night!
Kay: We're all flying down to Melbourne too to celebrate in style. It's a well-deserved reward for such a successful year and such a prestigious nomination. Sinead and I have worked so hard to build our businesses that we're just so proud to be finalists. Winning would be a bonus. The funny thing is, we didn't know we'd both submitted entries for the same category, so being nominated together was a wonderful surprise for both of us.
I also want to say I'm a big advocate for female leaders in our industry and out of the five companies nominated in our category, three have been founded by women. There's a lot to be said about women doing business differently and being recognised for their efforts. Whatever the outcome on awards night, there's no doubt we'll all be celebrating our successes.
Thanks for your time Sinead and Kay and the very best of luck for the awards night!
The Seek Annual Recruitment Awards (SARA) night takes place in Melbourne on Thursday 15 November 2018. More information on this year's finalists can be found on the SARA website.