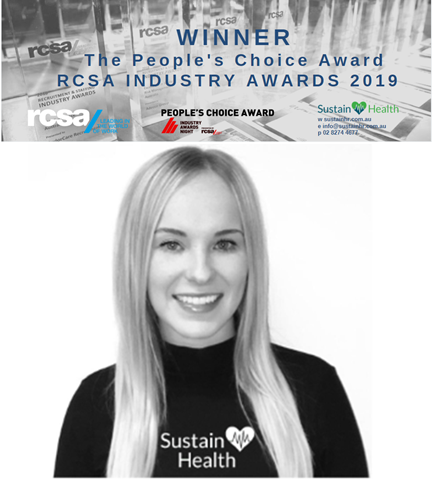 The RCSA People's Choice Award Winner:  Ami Flowers SustainHealth Recruitment
The prestigious RCSA Industry Awards 2019 was held last week and provided the opportunity to celebrate and recognise the best of the best in the recruitment and staffing sector.
Our amazing Nursing and Midwifery, Senior Recruitment Consultant,  Ami Flowers, was nominated for the Rising Star of the Year Award, but instead took home the People's Choice Award. There were nearly 1,400 votes cast for the award this year, so the competition was fierce. Ami proudly took home the $1000, RCSA training and development prize, and it was very well deserved!
Ami joined SustainHealth Recruitment, just 3 weeks after our inception, her progress, results and support over the past 22 months have been nothing short of outstanding!
Ami was unfortunately away on leave for the awards night, so our Queensland Nursing and Midwifery team, Belle Shum and Amanda Quinn, alongside our Director, Kay Reynoldson, attended the event in Ami's place. They certainly enjoyed the festivities, celebrating Ami's win in style!
Our team had a wonderful time dancing the night away with, Michelle Barrett and Sinead Connolly from our sister company, Lotus People AU.
RCSA, CEO Charles Cameron said the quality of applications continued to be outstanding and was indeed encouraging for the future of the sector.
"We believe it is vital that we work together as an industry to support each other to be the best professionals we can be to provide the most worthwhile and valuable service we can offer to clients and candidates alike," Charles said.
"Nights like last night's Industry Awards are an important aspect of this. It gives us a chance to honour and recognise those who have done well, encouraging others to learn from their example and also allows us to spend time together as industry participants just having some fun.
"Never underestimate the importance of fun on helping a sector come together."
The SustainHealth Recruitment team are extremely proud of everything Ami has achieved over the past 20 months, exciting times ahead for our Rising Star!
If you would like to learn more about working for SustainHealth, please reach out to us on the below:
P: 02 8274 4677